The Tennis Congress…and then back
Christy Vutam | October 20, 2015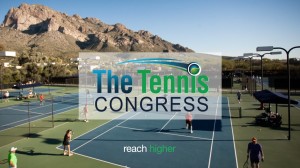 A couple of weekends ago, I attended The United States Tennis Congress on a tuition scholarship. Think tennis camp interfused with TED-talks. The U.S. Tennis Congress is the brainchild of fellow adult recreational tennis enthusiast P.J. Simmons (Road To 4.5 Tennis). He's a self-professed Tennisaholic who took up the sport in his 40s and is now making up for lost time.
P.J. figured there were many other adults just like him who were passionate about getting better and who would love the opportunity to learn from world-renowned tennis professionals. He be right.
The Tennis Congress is a magical world where I am not the only player on the court to have watched tennis how to videos on youtube. Where online-based tennis instructors like Craig O'Shannessy (Brain Game Tennis), Will Hamilton (Fuzzy Yellow Balls), and Ian Westermann (Essential Tennis) are larger-than-life celebrities (and yet super friendly and totally willing to talk to you).
(You know Ian and his tennis pal Ira Meiling from the hilarious viral tennis videos your teammates have tagged you on/forwarded to you:
How NOT to Make a Line Call
and How NOT to Treat Your Doubles Partner.)
Where doing jumping jacks, lunges, and many other dynamic warm up exercises before playing tennis is mandatory.
Where my personal Head Coach was Debbie Graham, former world top #30 in singles and top #10 in doubles.
Where 12-Time Grand Slam Title Winner Owen Davidson can name Billie Jean King, John Newcombe, and now Christy Vutam as doubles partners he has won at least one set with. Wwwhhhhhhaaaaatttttt.
Where I got to hear Davidson, Emilio Sanchez (former world #1 in doubles), Gigi Fernandez (former world #1 in doubles), John Austin (Wimbledon Mixed Doubles Champion with sister Tracy), and Tim Mayotte (Olympic Silver Medalist) share – sometimes hilarious, sometimes heartbreaking – constantly captivating stories of life at the top of the tour.
Where former #1 in Tanzania Ronald Rugimbana graciously stayed after a session to give me personal tips on my volleys. Where Craig Cignarelli, who has coached several #1 nationally-ranked juniors, blew my mind with his singles strategies…and then sassed me to no end over it. 😀 Where former top players in Spain Gerard Galindo (top 150) and Lucas Regas-Melero (top 100) taught me some much needed footwork and doubles nuances, respectively.
Where my roommate New Yorker Tammy Ferrari and I quickly became old friends and stayed up till past midnight every night discussing the tennis tips we learned that day and trading war stories as USTA captains.
(I have GOT to tell you about this innovative team tennis captaining strategy Tammy came up with on how to do your lineup and keep your sanity: send the whole season's lineup out at the beginning of the season but only list one person for each line of doubles. Those people are then responsible for finding their own partners for that match. Whoa.)
I could go on and on and on. It's wonderful. And what might be almost worth the cost of the excursion alone is the culture. The atmosphere is…delightful. So very nice. Earnest. All in the fashion of its founder P.J. The adult recreational tennis world isn't always nice, but I'm in a conference room full of very friendly adult recreational tennis fanatics and where there are no egos and no ratings talk. Just people who want to get better at tennis and who would probably all be willing to go out onto the court and try to hit 10, 20, 30+ balls in a row within the doubles alley with me till we succeeded.
"Improve, not prove," urged The Focus Coach Bob Litwin (Live The Best Story of Your Life) to us tennis instruction-hungry athletes during the opening welcome dinner, and that mantra rang in my ear throughout the event.
(By the way, the doubles alley is called the tramlines in Australia. Something you might want to know if you were invited to help Owen Davidson in his presentation and he's telling the audience about using the tramlines to work on their consistency while you're just hitting groundstrokes all willy-nilly. Sigh.)
But now I'm home, and let me tell ya something, Toto. We ain't in Kansas, anymore.
Er, or Arizona in this case.
The first sign of trouble appeared as soon as I touched down in Dallas and was driving home. At The Tennis Congress, we had only fish and chicken options for dinner; everything offered was gluten-free; and there weren't any fatty bacon or sausage to be had for breakfast. Exhausted from not sleeping the night before in order to catch my wee early morning shuttle to the airport and needing a pick-me-up meal on my ride home, I naturally turned to that gourmet culinary institution known as…Taco Bell.
<Homer Simpson voice>Mmmmmm, taco beef…</>
Seven hours later, I was scheduled to play a practice doubles match. I arrived a few minutes late – oh, I forgot I wasn't just rolling out of the hotel bed and meandering my way to the courts – so obviously, I couldn't go through any of the dynamic warm up. Can't be keeping my playing partners waiting any more than they already had to.
And even now as I'm thinking it out, if I were to do the dynamic warm up, I would have to get to the courts 30 minutes before the scheduled playing time so that a) I could do the whole routine and b) no one would see me do it.
I understand full well that not doing the dynamic warm up and not incorporating at least two days of fitness into my weekly schedule is going to hurt my body in the long run – as explained to me by my personal fitness trainers, Coach John Adamek and Coach Trevor McPherson – but at least my pride will be intact and I'm not that person who runs around/does stretches along the court. WHO DOES THAT. 😉
Gold Balls – A Documentary Film
If I don't stretch before tennis, as the threat goes, I won't play like these guys when I'm their age. Check out this teaser that was shown during the Congress's opening night.
So now I was playing tennis, and I was eager to apply all the note nuggets and instruction I accumulated from The U.S. Tennis Congress for the first time and finally unleash my tennis bada—eriness. I stared at the net player's racquet as my partner got ready to return – just like USPTA Master Professional Feisal Hassan said to do – and as the server started her motion, I went through my progressions as instructed. My head did not move to watch the ball land into the box or be struck by my partner's racquet! And then…the net player poached and the ball hit me square in the foot. Darn it. My head may not have moved, but neither did the rest of my body. I hadn't process all my progressions quickly enough; I was still discerning whether my partner's return was of a low or a high projected flight pattern…
I told my doubles partner I was working on stuff – helpfully using terms like soft focus and hard focus – and she was totally cool with it. Said it was just a doubles practice match after all. I happily agreed.
On other points, I was about to give my opponent the same ball twice, realized what a travesty I was about to commit (right, Coach Regas-Melero?), tried to change my shot, and wounded up dumping the ball into the net.
I tried to explain myself to my doubles partner once again, but I don't think she quite understood my babbling this go-around…
Still other times I would get volleys near the net that I knew needed to be angled off (not hit lamely back to the opponent at the baseline per Coach Rugimbana), but then I'd miss the court altogether (angles are hard. Also volleys).
That's when my partner said shake it off; let's get this game! Ah. This was no longer just a doubles practice match.
My head was pretty calm in between points (thank you, Jeff Greenwald [Fearless Tennis] and Jeff Salzenstein [Total Tennis Training]), but during the points, my head was fully mindful of what I was supposed to do or should have done at all times – "Load on your back foot. Prep early on your swing by turning your shoulders. CLOSE IN to the net strap when your partner hits an overhead" – and my tennis game was suffering for it.
That's when it hit me. I was going to lose all my matches over the next two months.
Oh, no. Oh no oh no oh no oh no oh no oh no oh no oh no oh no oh no.
That is bad. That is really bad. Fall's the busiest tennis season for my area: The two non-USTA teams I play on expect me to win my matches (I ain't on those teams because of my personality); the USTA team I captain and play on is in the midst of a heated pennant race; I'm playing in an end-of-the-year-by-invitation-only USTA tennis tournament the last weekend of October; and the first two weekends of November are blocked off for very important team tennis tournaments.
Did I mention the part where I'm clearly going to lose all my matches in October and November?
Okay. I know I spent all that money on transportation and my hotel room to improve my game and that I'd be essentially wasting the scholarship funds that were allocated to me (sorry, Scholarship Committee. Sorry, Robyn Cain!) as well as the time and efforts of the fine folks who wrote my recommendation letters for the scholarship application (two people I was already deeply indebted to: the lovely Valerie McArthur and my long-suffering coach Walt Williams over at Huffhines Tennis Center), the faculty members who worked with me throughout the three days, and P.J.'s team in the background who made the major, major event run oh-so-smoothly (Kristy Guthrie and Sarah Flesher), but I can't do this right now. I don't have time for all this getting better nonsense that involves a period of failing. I need to win all my practice and for reals matches NOW.
And so I'm sorry, Tennis Congress. I want to get better. I want to set up my body to succeed. I really do. But I…can't. I'm not as strong as you. THERE. I said it. ARE YOU HAPPY NOW.
Look. It's just a matter of bad timing! Let me get through this particular stretch of big deal tennis and then I'm all yours in the winter. Totally! I don't qualify for the age-discriminating USTA leagues that go on in my area then so we'll work oh-so-hard on getting better in the winter…when, um, no one, including my coach, will do tennis activities because it's too cold. Oh. Well, let's do it in the spring! YEAH. First thing in the spring! …when, um, the two non-USTA leagues start back up in my area…followed by the USTA spring league…
Sigh…let's just keep our relationship on the downlow, whatdoyasay, USTC? (You know you love it when I call you only by your initials.) Yes, it was a wonderful, enchanting weekend that I'll never forget. But we're no longer tucked away beside the bewitching mountainous backdrop of Tucson, Arizona. We're in the harsh, cutthroat reality of recreational adult tennis where every point I play is judged and defines me as a player and a person – but it's also abnormal for someone to take tennis seriously and work at her game – and where only silly people run around a court before matches. Please understand where I'm coming from when I tell people I don't know you and that I certainly don't do nor have ever done some sort of crane-like stretch for my hamstrings from doubles line to doubles line before tennis outings.
…and I have to fight my feelings that something's amiss when I don't do any of the dynamic warm up now…the jumping jacks…the upper body twists…the squats…NO, CHRISTY, NO. DON'T GIVE IN.
BUT. Hows about we rendezvous about the same time, maybe same place next year, m'kay, and we'll be alone and free to do all the Wharton Health active-isolated flexibility stretches after tennis sessions to our heart's content…